We are each of us angels with only one wing, and we can only fly by embracing one another.
~Luciano de Crescenzo~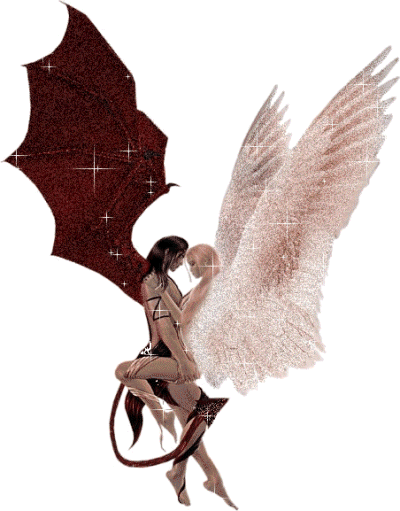 ANGELS
Angels are all around us, most of us know this.
Some are too cynical or busy to notice.
Some think they just have wings and fly.
but others don't even question why.
They look like you and me. They all have a purpose.
They are only here to guide us and serve us.
How many times have we said,"That was close!"
and went on to feel depressed and morose?
We never even thought of how lucky we are
to have these angels provide us with care.
So next time you see the beggar on the street
remember to greet him and be real sweet
For it just might be a test from God
to see how loving you'll be to this sot.
So get in your car or catch the bus
But please don't forget whose watching over us.
Thank them and cherish them and give them the praise
and you will be blessed the rest of your days

~Cindy Mock~
Comforting Angels
An angel kissed my tears away
today when I was sad
I wasn't feeling quite myself
my day had been so bad
I felt a warmth brush by me
that quickly dried my tears
A gentle, kind, & loving touch
that seened to hold me near.
Immediately, I felt so much better
& the day seemed brighter too
I guess that's just the way you feel
when an Angel comforts you.
~Unknown~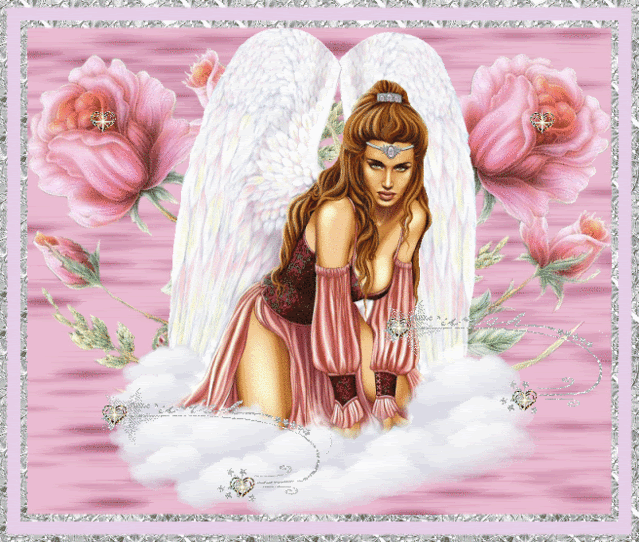 Angel Dream
When you allow angels to be part of your life, miracles truly happen."
A loving angel came to me in dreams.
She showed me lifeís not always what it seems,
And brought me to a place where sweet dreams live.
She gave to me a gift that I now give,
A Dreamerís Dream.
She whispered, "Take my hand and I will lead you through A place where
only sweet dreams can come true.
Close your eyes and open up your heart,
For then this flight of dreams so sweet can start.
Dream, Dreamer, Dream."
She brought me through the darkness to the Light,
Where colors wrapped around me, such delight.
A patchwork quilt of beauty without seams,
Each color was a rainbow full of dreams.
Dreamerís Dreams.
She led me through a hallway of pure sound,
With doors flung open widely all around.
And from each room a song would gently play.
I wished with all my heart that I could stay,
In this Dreamerís Dream.
But we drifted in the fragrance of the breeze,
To savor all the flowers and the trees.
We tasted all of life that we could see,
And felt it flow as one in harmonyÖ..
We Dreamed this Dreamerís Dream.
Then my angel turned her eyes to me and said,
"Youíre the Keeper of these Dreams inside your head.
Find sweet Dreamers, who would Dream of Love and Light, These Dreams
will lead them safely through the night.
Help these Dreamers Dream."
And so I am the Keeper of this Dream, itís true,
But I offer all my Dreams to each of you.
May their loving sweetness visit you each night
And fill your soul with Love and Warmth and Light.
Dream, Dreamers, Dream!
~Unknown~
I Heard an Angel
I heard an Angel singing
When the day was springing,
'Mercy, Pity, Peace
Is the world's release.'

Thus he sung all day
Over the new mown hay,
Till the sun went down
And haycocks looked brown.

I heard a Devil curse
Over the heath and the furze,
'Mercy could be no more,
If there was nobody poor,

And pity no more could be,
If all were as happy as we.'
At his curse the sun went down,
And the heavens gave a frown.

Down pour'd the heavy rain
Over the new reap'd grain ...
And Miseries' increase
Is Mercy, Pity, Peace.
~William Blake~
The Angel's Kiss
An angel stood beside the bed
Where lay the living and the dead.
He gave the mother -- her who died --
A kiss that Christ the Crucified

Had sent to greet the weary soul
When, worn and faint, it reached its goal.

He gave the infant kisses twain,
One on the breast, one on the brain.

"Go forth into the world," he said,
"With blessings on your heart and head,

"For God, who ruleth righteously,
Hath ordered that to such as be

"From birth deprived of mother's love,
I bring His blessing from above;

"But if the mother's life he spare
Then she is made God's messenger

"To kiss and pray that heart and brain
May go through life without a stain."

The infant moved towards the light,
The angel spread his wings in flight.

But each man carries to his grave
The kisses that in hopes to save
The angel or his mother gave.
~Andrew Barton Paterson~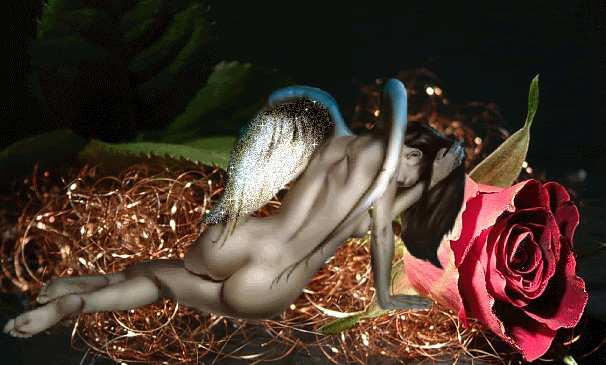 Footsteps of Angels
When the hours of Day are numbered,
And the voices of the Night
Wake the better soul, that slumbered,
To a holy, calm delight;

Ere the evening lamps are lighted,
And, like phantoms grim and tall,
Shadows from the fitful firelight
Dance upon the parlor wall;

Then the forms of the departed
Enter at the open door;
The beloved, the true-hearted,
Come to visit me once more;

He, the young and strong, who cherished
Noble longings for the strife,
By the roadside fell and perished,
Weary with the march of life!

They, the holy ones and weakly,
Who the cross of suffering bore,
Folded their pale hands so meekly,
Spake with us on earth no more!

And with them the Being Beauteous,
Who unto my youth was given,
More than all things else to love me,
And is now a saint in heaven.

With a slow and noiseless footstep
Comes that messenger divine,
Takes the vacant chair beside me,
Lays her gentle hand in mine.

And she sits and gazes at me
With those deep and tender eyes,
Like the stars, so still and saint-like,
Looking downward from the skies.

Uttered not, yet comprehended,
Is the spirit's voiceless prayer,
Soft rebukes, in blessings ended,
Breathing from her lips of air.

Oh, though oft depressed and lonely,
All my fears are laid aside,
If I but remember only
Such as these have lived and died!
~Henry Wadsworth Longfellow~

background and graphics by: