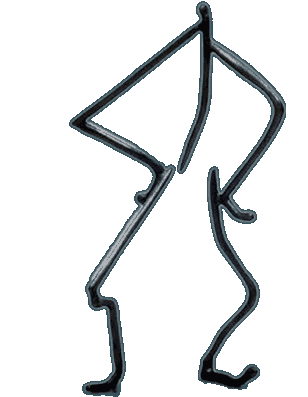 ---
The black stick man is another entity encountered in modern times. Not to be confused with the shadow man, incredibly he is even stranger. Stick men are supposed to look like totally black, thin, stick figure drawings, such as teachers would make . They have been reported as between average height to impossibly tall. Their heads are just a black circle with no facial features being discernible. They are totally two dimensional, without any depth. Usually they've been sighted walking along roads at night, or at transitional times such as twilight or just before dawn. Bizarrely, some have reported them wearing what appears to be a top hat. Their walk is described as a weird "lolloping" gait. They are surprised when actually seen, and have followed unfortunate witnesses on occasion. Their pace remains leisurely as they approach. Obviously to be pursued by such an otherworldly creature would be anything but pleasant, and those who have encountered them have been understandably terrified. So far however, apart from being bizarrely frightening, they have done no physical harm, and ultimately just disappear.
---
Black Stick Man Encounter
This is my first post. I wanted to share an experience that happened to me some years ago, for which I have no explanation but still to this day I'd like to see if anyone out there has any ideas to contribute. The fact that I stumbled across these accounts on the FT website of black silhouette figures confirms a lot to me, namely that myself and a friend are not alone in something we experienced. Please read on!

I was walking from a friend's house to my own, in the early hours of the morning after a night of general chat while I was at university here in London, UK – specifically, a relatively leafy suburb called Brockley in South-east London. I had drunk only everyday tea or soft drinks all night and had consumed no drugs whatsoever. I'd simply gone without sleep. The time was around 6am and dawn was literally breaking when a friend and I found ourselves walking down my street to where my apartment was located, when we saw a figure walking up the street towards us. The word we coined later to describe its movement was 'lolloping' - a kind of up-down bouncy walk. It took a few seconds for the two of us to realise this was no human being. I asked my friend: "See that man?" "Yes," was the reply. "It's not a man, though, is it?" I found myself asking. "No,' said my friend, sounding scared. "It isn't."

The creature was entirely black and like a cardboard cut-out, flat and one-dimensional. It had no features at all, and it had arms that hung down to its knees. It seemed to be ignoring us, then it seemed to realise we could see it and it began to 'lollop' faster towards us.

We ran to my front door and hid in the hallway as quiet and unmoving as possible when we saw the thing - we felt it was male - approach the front door and appear to look through the glass from the way its head moved up and down and around. It then turned away.

We didn't sleep for some time after that, discussing what we saw. It was shaped like many descriptions of 'greys' but both myself and my friend came away with the impression that what we saw was either of this world or from another parallel dimension. To all intents and purposes, it appeared to be sauntering along the road enjoying the walk before it became shocked to see us staring at it in horror. We instinctively felt this was not a creature to try and communicate with, this was not something that it was good to be near. We might have been wrong but neither myself nor my friend would ever like to see this creature or others like it again, though I'd love to get some ideas on what it was. We felt that if this creature had somehow gotten hold of us, we would not be around today to tell the tale to anyone who might believe us or at least give the story open-minded consideration.
It's hard to imagine that such a strange creature could be lurking around a corner somewhere. The Black Stick Men seem to be more of a modern day phenomenon in the same category as the "Black Eyed Kids", these creatures have only had documented sightings within the last several years. Still the sightings seem to be growing in numbers and the people who encounter these creatures seem to share a genuine fear. Just as with any other bizarre creature sightings the theories include: aliens, other dimensions, ghosts and the list goes on. You can judge for yourself.
---
source:
http://arieffanfitrov.blogspot.com/2009/11/10-unidentified-modern-paranormal.html
background and graphics by:
Next Back Home