Training your human is a thankless task.
"Why bother with it?", some kittens may ask.
The fate of the world is the issue at hand,
as felines worldwide stake a claim for their land.
Make no bones about it, we cats own the joint.
We spray in the corners to drive home the point.
Some say the meek shall inherit the Earth,
But they've no fangs or claws, for what that's worth.
The cat is the ultimate species, you see,
We're poised to usurp man's authority.
These silly old humans who cannot play nice!
We cats are peaceful, we hate only mice.
Just what does training your human entail?
A host of fun things you must do without fail:
The sofas and rugs need a little makeover.
The La-Z-Boy's target for kitty takeover.
Then sleep on clean towels placed in the guest bath.
And make their best clothing a target of wrath.
Tear down those new drapes with a quick forceful tug.
Then tatter the pile of the new Berber rug.
And when they are sleeping, you block off their nose,
paw at their lower lip, chew on their toes.
Strut on the mantle. If they give any flack,
knock down their trophies and all bric-a-brac.
Shed on mom's new velvet black evening gown,
as she's headed out for a night on the town.
If they leave you home all alone for the night,
(Any human doing this can't be all that bright),
They're telling you by leaving, it's perfectly all right,
To totally redecorate 'til dawn's early light.
Knock over tables and chew up the fern.
Hurry, go faster! Soon, they'll return...
When they try to punish, you mustn't show concern.
(All attempts of discipline a pussycat should spurn.)
A snide flick of tail will convey no remorse,
but they will try harder to scold you, of course!
So, hide in the closet until they forget,
and then launch out just like an F-14 jet.
Tear up their ankle, their forearm, their hand,
then when they've had all the pain they can stand,
dart from the room while they call 9-1-1,
and celebrate victory: The felines have won!
To humans, however, the battle's begun,
as they steep in their anger and wish for a gun.
Pathetic and lumbering and clumsy to boot,
My friend, human dominance is really a hoot.
Take charge in your home. It's destiny, meow.
(The verses above have already told how.)
So sleep for an hour, and then grab some chow,
And then train your human, beginning right now.
~Author Unknown~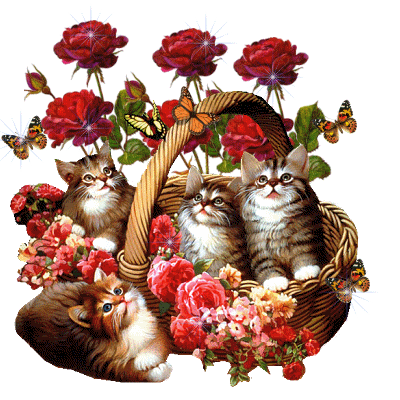 Loving and Liking
Long may you love your pensioner mouse,
Though one of a tribe that torment the house:
Nor dislike for her cruel sport the cat,
Deadly foe both of mouse and rat;
Remember she follows the law of her kind,
And Instinct is neither wayward nor blind.
Then think of her beautiful gliding form,
Her tread that would scarcely crush a worm,
And her soothing song by the winter fire,
Soft as the dying throb of the lyre.
~William Wordsworth~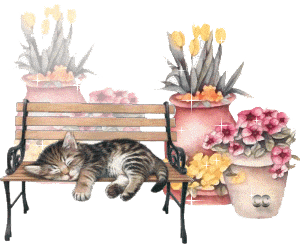 The Naming of Cats
The Naming of Cats is a difficult matter,
It isn't just one of your holiday games;
You may think at first I'm as mad as a hatter
When I tell you, a cat must have THREE DIFFERENT NAMES.
First of all, there's the name that the family use daily,
Such as Peter, Augustus, Alonzo or James,
Such as Victor or Jonathan, or George or Bill Bailey -
All of them sensible everyday names.
There are fancier names if you think they sound sweeter,
Some for the gentlemen, some for the dames:
Such as Plato, Admetus, Electra, Demeter -
But all of them sensible everyday names.
But I tell you, a cat needs a name that's particular,
A name that's peculiar, and more dignified,
Else how can he keep up his tail perpendicular,
Or spread out his whiskers, or cherish his pride?
Of names of this kind, I can give you a quorum,
Such as Munkustrap, Quaxo, or Coricopat,
Such as Bombalurina, or else Jellylorum -
Names that never belong to more than one cat.
But above and beyond there's still one name left over,
And that is the name that you never will guess;
The name that no human research can discover -
But THE CAT HIMSELF KNOWS, and will never confess.
When you notice a cat in profound meditation,
The reason, I tell you, is always the same:
His mind is engaged in a rapt contemplation
Of the thought, of the thought, of the thought of his name:
His ineffable effable
Effanineffable
Deep and inscrutable singular Name.
~T. S Elliot~
The Cat and the Moon
The cat went here and there
and the moon spun round like a top,
and the nearest kin of the moon,
the creeping cat, looked up.
Black Minnaloushe stared at the moon,
for, wander and wail as he would,
the pure cold light in the sky
troubled his animal blood.
Minnaloushe runs in the grass
lifting his delicate feet.
Do you dance, Minnaloushe, do you dance?
When two close kindred meet,
what better than call a dance?
Maybe the moon may learn,
tired of that courtly fashion,
a new dance turn.
Minnaloushe creeps through the grass
from moonlit place to place,
the sacred moon overhead
has taken a new phase.
Does Minnaloushe know that his pupils
will pass from change to change,
and that from round to crescent,
from crescent to round they range?
Minnaloushe creeps through the grass
alone, important and wise,
and lifts to the changing moon
his changing eyes.
~William Butler Yeats~
When God Made Cats
When God made the world, He chose to put animals in it, and decided to give each whatever it wanted. All the animals formed a long line before His throne, and the cat quietly went to the end of the line. To the elephant and the bear He gave strength, to the rabbit and the deer, swiftness; to the owl, the ability to see at night, to the birds and the butterflies, great beauty; to the fox, cunning; to the monkey, intelligence; to the dog, loyalty; to the lion, courage; to the otter, playfulness. And all these were things the animals begged of God. At last he came to the end of the line, and there sat the little cat, waiting patiently. "What will YOU have?" God asked the cat.
The cat shrugged modestly. "Oh, whatever scraps you have left over. I don't mind."
"But I'm God. I have everything left over."
"Then I'll have a little of everything, please."
And God gave a great shout of laughter at the cleverness of this small animal, and gave the cat everything she asked for, adding grace and elegance and, only for her, a gentle purr that would always attract humans and assure her a warm and comfortable home.
But he took away her false modesty.
~Lenore Fleischer~
A Cat's Prayer
Now I lay me down to sleep,
The king-size bed is soft and deep...
I sleep right in the center groove
My human can hardly move!
I've trapped her legs, she's tucked in tight
And here is where I pass the night
No one disturbs me or dares intrude
Till morning comes and "I want food!"
I sneak up slowly to begin
My nibbles on my human's chin.
She wakes up quickly, I have sharp teeth -
And my claws I will unsheath
For the morning's here and it's time to play
I always seem to get my way.
So thank you Lord for giving me
This human person that I see.
The one who hugs me and holds me tight
And sacrifices her bed at night.
~Author Unknown~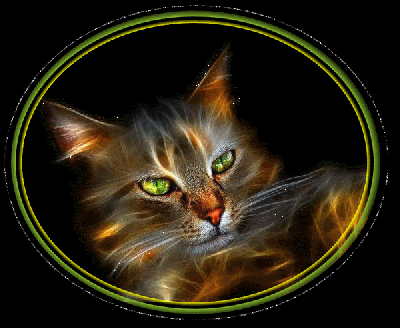 Pussy Willows
There is a legend that many little kittens were thrown into a river to drown. The mother cat wept and was so distraught that the willow trees on the bank felt compassion and held out their branches to the struggling kittens who clung to them and were saved. Ever since that time, every spring, the willow trees wear gray buds that feel as soft and silky as kitten tails. That is why they are called "pussy willows."
~unknown~
Cat Owner's Prayer
Because I'm only human,
It's sometimes hard to be
The wise, all-knowing creature
That my cat expects of me.
And so I pray for special help
To somehow understand
The subtle implications
Of each proud meowed command.
Oh, let me not forget that chairs
Were put on earth to shred;
And what I like to call a lap
Is actually a bed.
I know it's really lots to ask
But please, oh please, take pity;
And though I'm only human,
Make me worthy of my kitty!
~Author Unknown~
To Mrs Reynold's Cat
Cat! Who hast past thy Grand Climacteric,
How many mice and Rats hast in thy days
Destroy'd - how many tit bits stolen? Gaze
With those bright languid segments green and prick
Those velvet ears - but pr'ythee do not stick
Thy latent talons in me - and upraise
Thy gentle mew - and tell me all thy frays
Of Fish and Mice, and Rats and tender chick.
Nay look not down, nor lick thy dainty wrists -
For all the wheezy Asthma, -and for all
Thy tail's tip is nicked off - and though the fists
Of many a maid have given thee many a maul,
Still is that fur as soft as when the lists
In youth thou enter'dst on glass- bottled wall.
~John Keats 1818~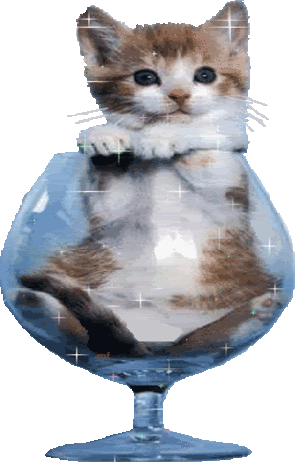 The Rum Tum Tugger
The Rum Tum Tugger is a Curious Cat:
If you offer him pheasant he would rather have grouse.
If you put him in a house he would much prefer a flat,
If you put him in a flat then he'd rather have a house.
If you set him on a mouse then he only wants a rat,
If you set him on a rat then he'd rather chase a mouse.
Yes the Rum Tum Tugger is a Curious Cat--
And there isn't any call for me to shout it:
For he will do
As he do do
And there's no doing anything about it!
The Rum Tum Tugger is a terrible bore:
When you let him in, then he wants to be out;
He's always on the wrong side of every door,
And as soon as he's at home, then he'd like to get about.
He likes to lie in the bureau drawer,
But he makes such a fuss if he can't get out.
Yes the Rum Tum Tugger is a Curious Cat--
And there isn't any use for you to doubt it:
For he will do
As he do do
And there's no doing anything about it!
The Rum Tum Tugger is a curious beast:
His disobliging ways are a matter of habit.
If you offer him fish then he always wants a feast;
When there isn't any fish then he won't eat rabbit.
If you offer him cream then he sniffs and sneers,
For he only likes what he finds for himself;
So you'll catch him in it right up to the ears,
If you put it away on the larder shelf.
The Rum Tum Tugger is artful and knowing,
The Rum Tum Tugger doesn't care for a cuddle;
But he'll leap on your lap in the middle of your sewing,
For there's nothing he enjoys like a horrible muddle.
Yes the Rum Tum Tugger is a Curious Cat--
And there isn't any need for me to spout it:
For he will do
As he do do
And there's no doing anything about it!
~T. S. Elliot~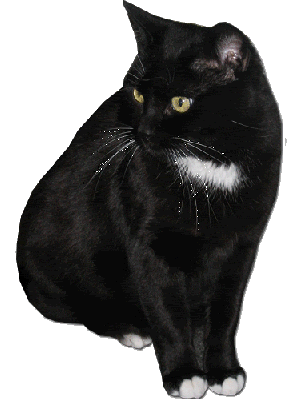 background and graphics by: