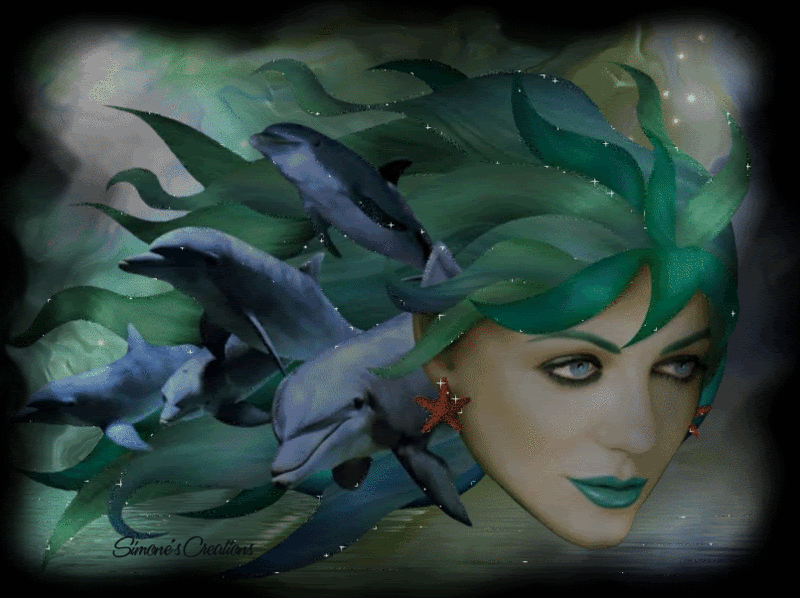 I know you from a place enchanted, whales and dolphins find romance there.
Under sea, where dark is light, there is air, there is life!
In cavern crevas, both large and small, there is no lack of life at all!
The bringers of the essence, of what we shall become,
With love and understanding, united, and are one.
So peace be with you, Dolphin, your spirit karma free,
To swim and play forever, In an unpolluted sea!

~Lisa Chiapero~
DREAM OF THE DOLPHIN
(OPEN YOUR HEART)

The dolphin looked upon the child
Out from the sea so soft and wild
Come sing with me let go your fear
And share the dream you're meant to hear

A heart can sing in rhyme and song
It's in our hearts where we belong
And you can live life joyfully
Like all the dolphins in the sea

OPEN YOUR HEART AND LOVE WILL GROW
OPEN YOUR HEART TO LIGHT THE SOUL
OPEN YOUR HEART THE SEA WILL GIVE
OPEN YOUR HEART

For I have learned out in the sea
The greatest gifts we give are free
So, take this gift across the land
To every woman, child, and man

(CHORUS)

In the dolphin's dream
A gentle spirit sings
Only the heart can hear

Let your heart receive
The joy the dolphin brings
Let love fill your life

~unkown~
Dolphin Delirium

Puffing sprays bursting the waters

The orchestra emerges

Soaring slick black notes

Leap and sing with oceanic urges

A symphony of flashing white chords

Erupts the silver staccato plain

Breathing waves trumpet

Their happy sonar refrain

Ocean's breath, heaven's laughter

The delicate dolphin

Magical flying mammal

Those Mermaids and Merlins

The dolphin team, offense

Lunges ahead

Waking the waters

With each wave they've read

Would that I could

Explode with such joy

As these black sub cruise missiles

Delightfully deploy

Dolphin daredevils fling

White-bottomed bodies high

While replicated dolphin babies

Fly on their mama's side

The flippers quiver with an oh la la

Frolicking friends join this water gala

In groups of triplets and twins

Let the maritime fun win

Dolphin delirium

Mad with so much joy

The energy given

Reforms, renews, employs

A gray cloud of smoke puffs through

The open moon roof of the car next door

Somehow, it's just not the same

Give me the dolphins once more

~ Terri Marie~
News from the Delphic Oracle
Straddling each a dolphin's back
And steadied by a fin,
Those Innocents re-live their death,
Their wounds open again,
The ecstatic waters laugh because
Their cries are sweet and strange,
Through their ancestral patterns dance,
And the brute dolphins plunge
Until in some cliff-sheltered bay
Where wades the choir of love
Proferring it's sacred laurel crowns,
They pitch their burdens off.

~(1939) WB Yeats~
background and graphics by: